CLEAN IS OUR SUPERPOWER
Lab-tested powerful clean without all the nasty stuff.
THIRD-PARTY
TESTED + PROVEN
We're big believers in butt-naked transparency, so we partnered with a world-leading testing and certification company, Bureau Veritas, to put our hard-working get-the-funk out formulas to the test. All of our products are lab tested by a third-party and the results are in: the plant magic in these vials is potent and Supernatural products are proven to be as effective or more effective than big-name cleaning brands.
Shop Now
SUPER EFFECTIVE,
NATURALLY CLEAN
Glass + Mirrors
We love streaking, just not on our surfaces. Lab-tested and proven to remove fingerprints, grime, and dirt, our formula leaves mirrors and windows sparkling clean without any smears or streaking.
"No effing streaking with anything. Used Glass + Mirrors and it has been the first time without effort that I was able to get a glass-like finish."
Wood + Floors
Say hello to good wood. Lab-tested and proven to remove stubborn gunk like crayon and pencil marks, dried cocoa, coffee, and grape juice from surfaces like hardwood, vinyl, and laminate without any streaking or residue left behind.
"When I used the Wood + Floors concentrate on my furniture, it removed gunk left behind from other wood cleaners. I was shocked! Very impressed!"
Counters + Granite
An all-around cleaning hero that makes surfaces sparkle without any streaks or smears. Lab-tested and proven to remove pencil, crayon marks, tea, and blueberry stains from surfaces and granite, and dirt, grime, and grease from stovetops.
"This stuff is magical. I was making ghee last night and it exploded all over my stove. But fret not, the counter cleaner cut through all the grease and cleaned it right up."
Bath + Tile
Transform your tub into a sacred space. Our 100% au naturel bathroom superstar is lab-tested and proven to remove soap scum, water spots, and grime from sinks and bathtubs.
"My kid and I love baths but I hate scrubbing the scum off the bathtub. Didn't think this would work because it's SOOOO natural but damn... it really does.."
Stainless Steel
Liberate yourself from fingerprints. Our Stainless Steel formula is lab-tested and proven to remove fingerprints, watermarks, and grease from stainless steel appliances and chrome fixtures without any streaking or residue.
"Leaves my refrigerator perfectly shiny and free of all those pesky fingerprints."
MEET OUR
SUPER POWERFUL
PLANT INGREDIENTS
You won't find any ammonia, chlorine, phthalates or other toxic ingredients here. We rely on the power of plants for our super potent cleaning concentrates. Get familiar with a few of our superstars:
Sodium Cocoyl Glutamate
Made from coconuts and fermented sugar. Lends serious grime-and-grease-fighting foaming power.
Lactic Acid
Fermented from corn, sugarcane, and beets, this natural degreaser is tough on stubborn sticky gunk.
Citric Acid
A natural acid found in citrus fruits and berries, this ingredient helps remove hard water stains thanks to its effect on metal ions.
Decyl Glucoside
Derived from coconuts and corn. Helps scrub out all that grime while also stabilizing the concentrate's oil and water mixture
(aka holding all the magic together).
"I got my first order today and already obsessed! Thank you for making such a high quality, eco-friendly, beautifully designed, and delicious smelling product!!!"

-Gia Marie
"This is not an ad. I'm a clean freak and I'm obsessed with nontoxic products so I'm in heaven. I have some pretty happy surfaces and my home is smelling great."

-Julie
"I love my supernatural products! I first purchased when I discovered I was pregnant and felt safe knowing I wasn't exposing myself and my baby to harmful chemicals. After using the products and smelling how good the essential oil blends smell it actually makes me enjoy cleaning now!"

-Chelsea
"I recently discovered an amazing new cleaning product line: Supernatural Being. The products come in beautiful, eco-friendly glass bottles, use a combination of plant and mineral based solutions with essential oils, and do - their - job! Perfect for the person who has everything, wants to change their health and lifestyle, or can just appreciate natural and beautiful products!"

-Vanessa, Professor and Chiropractic Doctor
"I used the floor cleaner and the window cleaner today and was super impressed with how well it worked. No streaks on the glass and it cut through the mark my last cleaner left on my hardwood floors. It all smells amazing without being overwhelming like some other products I've tried."

-Emily Marie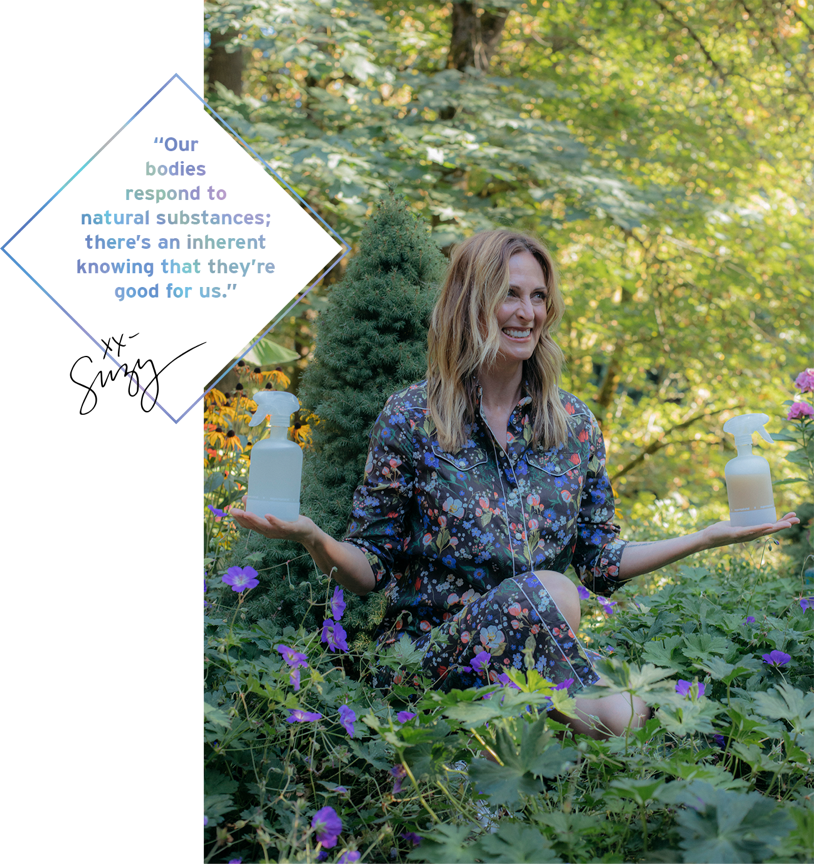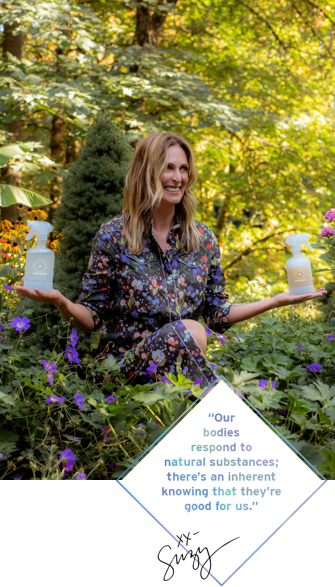 A NOTE FROM
OUR CREATOR
When I conceived Supernatural it was out of a desire to create something that's never been made before: all-natural cleaning products that are sustainably sourced, with the lowest carbon footprint possible, that smell unbelievably amazing. Oh! And that actually work better than conventional cleaning products.
Our hippie chemist spent two years perfecting our formulas for impeccable cleaning power. We stripped out all the nasty stuff commonly found in traditional cleaning products and replaced it with plants, minerals, and essential oils that know how to get down to freaky-clean business.
Working with the aromatherapeutic power of essential oils has been a passion of mine for more than 20 years. When we were formulating Wood + Floors, I knew we had to include fir essential oil — it not only cleans the wood, it conditions it. We used lemon essential oil in the Bath + Tile formula to powerfully cut grime. So Supernatural's plant-powered concentrates were designed first and foremost to have super potent cleaning power; the fact they smell amazingly delicious is a bonus!